Pictures of each type to help identify notes. Individual picture for some series, including all Confederate Note and Military Payment Currency notes.
Powerful Export abilities. Export data to Microsoft Access, Excel, or to an HTML page.
Attach up to 4 images to each note record.
Amazing View feature allows you to view your collection in many different ways.
Each record contains over 40 information fields. Keep track of Note defects, Purchase and Selling info, etc. collections
Store Internet and Contact Information for Customers, Dealers and Grading Services. Easy One-Click viewing of all Notes bought or sold from a particular Dealer/Customer.
Types & Varieties Manager allows you to add data for Countries or Varieties not present in the program database.
Comprehensive Database of US & Canadian Paper Money + National Bank Notes
CurrencyManage contains a massive catalog database of information on over 18,200 US and Canadian Paper Money varieties. Also included is Charter Number, City, State and Bank information on all 14,000+ National Bank Notes. When entering National Bank Notes, simply type in the Charter Number, the City, State and Bank information for that note will automatically be entered.

USA Paper Money Data
National City, Bank, Charter Number and State info on all 14,000+ National Bank Notes
Confederate Money
Military Payment Currency
Demand Notes - All Denominations
Legal Tender Issues (United States Notes) - All Denominations
Compound Interest Treasury Notes - All Denominations
Interest Bearing Notes - All Denominations
Refunding Certificates - All Denominations
Silver Certificates - All Denominations
Treasury or Coin Notes - All Denominations
Encased Postage Stamps
Federal Reserve Bank Notes - All Denominations
Federal Reserve Notes- All Denominations
Gold Certificates - All Denominations
Continental Currency
Colonial Currency - Connecticut, Delaware, Georgia, Maryland, Massachusetts, New Jersey, New York, North Carolina, Pennsylvania, Rhode Island, South Carolina, Vermont and Virginia
Confederate War Bonds

Canadian Paper Money Data
Bank of Canada Notes - All Denominations
Dominion of Canada Notes - All Denominations
Provincial Issues (Prince Edward Island, Nova Scotia, Newfoundland)
Spurious and Expired Bank Issues
Chartered Bank Issues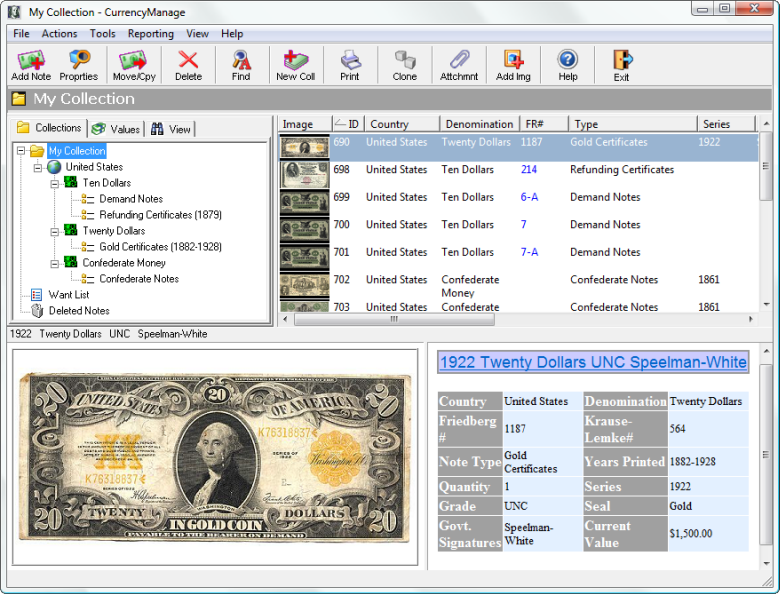 Search eBay™ Paper Money Auctions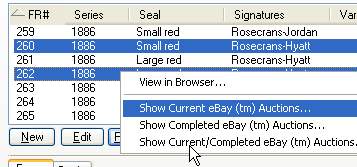 Quickly find eBay™ auctions for the notes you specify. While your bidding competition is wasting time laboriously browsing through auction listings, you can quickly find auctions for the Paper Money you are interested in. No typing required! Simply select the bank notes you want to search for, then specify whether you want to look at Current auctions or Completed auctions. Use the Completed Auction search to research recent selling prices.
Store Images for each Item
Import images directly into CurrencyManage using a TWAIN-compatible scanner or digital camera. Load graphic images (GIF, JPG, TIFF, PNG, BMP, etc..) from files or Paste them in from the Clipboard. You can even 'drag' image files from the Windows Explorer directly into the image window! Use the 'Shrink To Fit' feature to automatically reduce images to a manageable size. CurrencyManage allows up to 4 images for each record.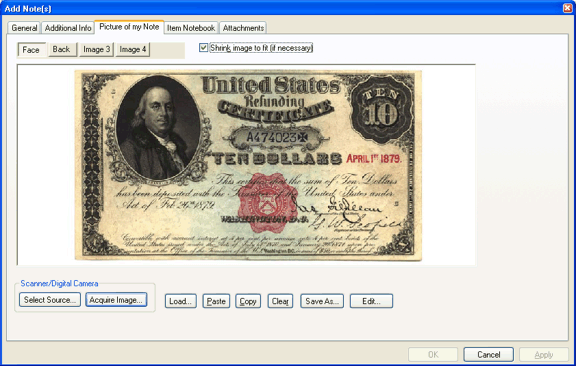 It's an Encyclopedia of Paper Money Internet Sites!!
The CurrencyManage currency database comes pre-populated with hundreds of links relevant to your paper money. Simply click on a link to visit the site. You can easily add your own links or file attachments. You can even add links specific to a particular paper money variety.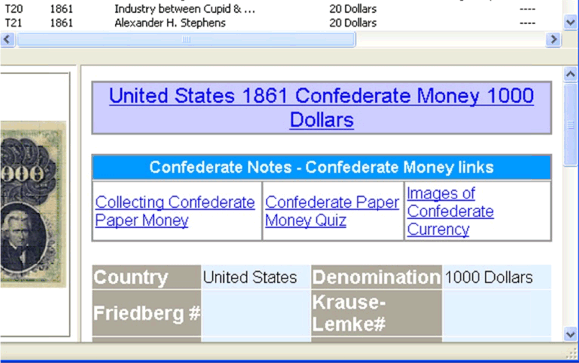 New!

Informative, Great-Looking Reports
Click on the report thumbnail to view the report, exactly as it was generated from CurrencyManage using the Export to PDF format.
| | | |
| --- | --- | --- |
| | | |
| Use our CheckList report to see which bank notes you currently own. | Generate a Bank Note Values report using the provided CurrencyManage values database. | View the Bank Notes you own in many ways. The report above shows all owned bank notes grouped by Signature |
New!

Create your own reports
Use our new, integrated report designer to create and edit your own reports. Easily create reports with graphs, paper money images, totals and more. Save and print the report, or export to one of many different formats, including PDF, HTML, Excel, RTF, XML, text and many more.
Use the Bar Codes on Certified Notes

Most Certified bank notes have a bar code on the paper money holder. Use this bar code to enable instant retrieval of the note with a bar code scanner.

When adding note records, add the bar code information by scanning the bar code on the certified note holder with the text cursor positioned in the Bar Code field.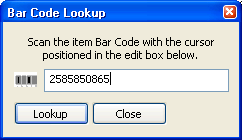 To later retrieve the note record, use the Bar Code Lookup window, as soon as you scan the bar code from the note holder, the information for that note will be displayed.
View your Collection in many different ways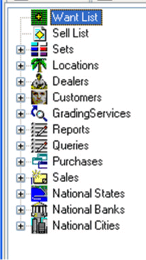 CurrencyManage makes it easy to view your collection in every conceivable way.
View all your National Bank Notes from Pennsylvania. Or All Notes bought from a particular Dealer. Click on a Query to instantly execute it. Besides being able to see the results, you can then print them out, or export to an Access, Excel or HTML file.
Use the Type & Varieties Manager to add new notes to the database.
Do you have notes from Countries not in the CurrencyManage Database? Easily add new note data and images using the powerful Types & Varieties Manager. We used it ourselves to add all 18,200 notes and 1000+ images to the program note database. From the T&V manager, you can also specify which grades and which columns show when displaying a particular type of note.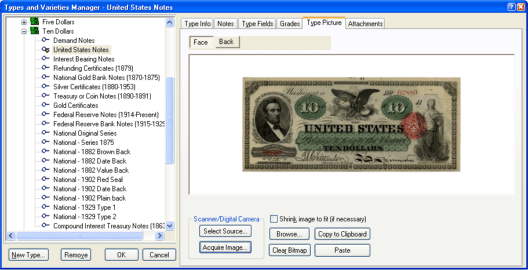 Ziff-Davis gave CurrencyManage it's highest award - 5 Stars

CurrencyManage is an impressive database program for people who collect paper money. It enables you to manage, track, and reference your collections using traditional data fields such as denomination, type, condition, cost, value, serial number, and more. A built-in reference database contains U.S. and Canadian currency information dating from 1729 to the present. National currency by type/state, military payment certificates, Confederate money, and fractional currency are all available. You'll find series, signature, seal, and denomination weight, in addition to scanned graphics of many of the bills. You can add personal notes, track which bills you want to purchase or sell, track profits, and print the database in a variety of ways. The program is highly configurable and even allows you to add scanned images of your paper money. It's easy to use, providing thorough reference data with a simple point-and-click interface.
Numismatic Combo - CoinManage / CurrencyManage (CD-ROM)- Only $89.95
Numismatic Combo - (Electronic Delivery) Only $69.95