...I upgraded from SM 2013 this past weekend and was very impressed with the new edition. Having used your program for many years now, you have continually added many features making StampManage the leader in collection software. Most impressive

- Paul Lee
StampManage The #1 Choice for stamp collectors.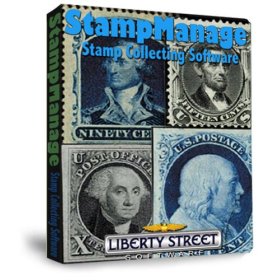 Platform:

Windows Vista, Windows 7

, 8 and 10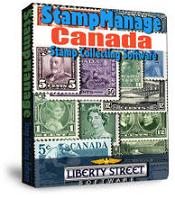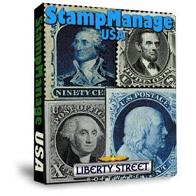 "StampManage is an elegant, full-feature Windows inventory program for United States and Canadian stamps....The program allows you to enter more information about your stamps than any other inventory program I've come across........the author of the program, has created a versatile program that is comprehensive, yet not overly complex...." - William F. Sharpe - Linn's Stamp News

Regardless whether you buy our StampManage software on CD or as a download, you will get life-long access to our downloads area. There, you will always be able to download the purchased version of your program.

Automatically check for and download the latest program updates. Free Updates every few months include additional data, images, reports and program features.
Protect your data with our automatic data backup. Your data and images will automatically be backed up at an interval you specify.
You will have a complete record of your collection. Invaluable for insurance in the case of loss or theft.
StampManage lets you work with the Entire 393,100 stamp database, compare to other leading programs which only load 1 country at a time. The advantage to our method is you can see your inventory for all the countries you have entered..
Run Searches and any reports across your entire world stamp collection. Search the entire stamp variety database for topical stamps, stamps between a certain range of years, stamps of a certain denomination.
Export your reports to PDF, Microsoft Word or Excel, HTML and many other formats. Our reports can be viewed on an iPad, Android Tablet, Macintosh, virtually any computing device. You can even publish your reports to the Internet.
The Deluxe version includes our entire stamp database. Our free updates include updated images, data & values from all countries. We will not charge you hundreds of dollars more for additional country CDs unlike other expensive (and non refundable) stamp software.
"I just want to say this to you all. You probably saved my life. I am 89 and in good shape. I lost my previous program with 55 years of singles, plate blocks, first day covers and mint sheets. It was extremly frustrating to go to the recommended program that was atrocious. and a second one that was not much better. Then I found Stamp Manage. None of the others had "how to" in them. None had the option of adding many at a time. This will save me hundreds of hours of work installing thousands of items... I am awaiting the CD and the manual eagerly. It is most of 16 3 inch-ring binders full..." - Warren E - Richland, Washington
StampManage is Officially Licensed to use the Industry-Standard SCOTT™ stamp numbering system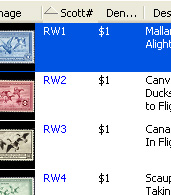 All stamp listings are indexed by the SCOTT™ numbering system. These are the identifying numbers used to identify most stamps by stamp dealers and on-line auction listings.
Sort stamps by SCOTT™ number with one click on the header. Sort in Ascending or Descending order.
Simply type the SCOTT™ number directly into any StampManage stamp list to jump to the correct stamp listing.

"
StampManage is a remarkable program
with it's easy to use, mouse oriented, Windows interface and outstanding content-rich database. There are numerous database fields including file and web association to allow detailed documenting of philatelic material. The separation of the user data collections and the catalogue database information worked well. The program could be used efficiently not only as an inventory program but as a digital catalogue".
The Compulatelist
- Reviewed by Al Gore
ID your stamps with our Postage Stamp Identifier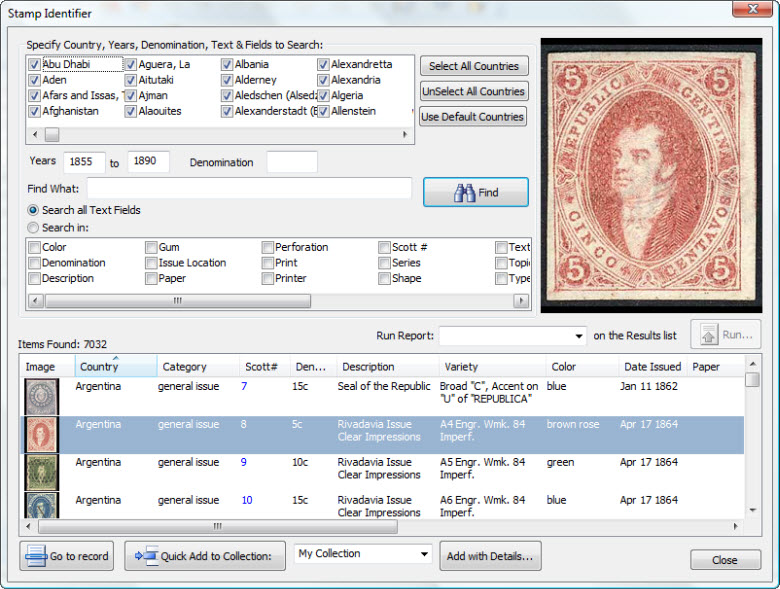 You can use our Postage Stamp Identifier to find the catalog number, issue date and other info related to the stamps you own.
Simply type in the subject, denomination or other identifying text found on the stamp. StampManage will return all the relevant stamps.
You can then pick the varieties you own and use the Quick Add button to add them to your collection database.
You will be able to inventory hundreds, even thousands of your stamps in a fraction of the time that would be needed if you had to look up each stamp in a stamp catalog.
Instantly find stamps on eBay™

, Collectors.com

& HipStamp™
No typing required! Simply choose the stamps you want to find.
Great way to research recent selling prices.
Gain the advantage on your bidding competitors.
Save hours of time otherwise spent browsing endless auction listings or manually typing in complicated search requests.

New!

Search only for Mint stamps, Plate Blocks or First Day Covers.
Stamp Identification on the Internet
Identify stamps using the LignUp stamp search (sold sep

e

rately) with it's stamp image database of 600,000+ stamps.
A most usefull and stress saving feature. Have you ever tried to identify Chinese stamps?
Unlike similar software, you do NOT need to know which country the stamp is from. LignUp searches the entire internet, not just images on your hard drive.
| IMAGE OF YOUR STAMP | | STAMP IDENTIFIED |
| --- | --- | --- |
| | | |
Use our new Add Stamp Wizard to quickly inventory stamps where you don't know the SCOTT number or possibly even the country of origin. Simply paste, scan or load the image file for the stamp. Click the Image Search button and then view at the results to find out the vital information (Country, SCOTT #) you need to inventory the stamp.
| | | |
| --- | --- | --- |
| SELECT A STAMP FROM STAMPMANAGE | | INTERNET STAMP IMAGE MATCHES |
| | | |
You can also do an image search for any stamp in our database (or that is in one of your collections).
The search results will show stamps of this variety for sale all over the internet.
Results will also contain non-commercial philatelic sites with information about this stamp.
Find out how much your Stamp Collection is Worth
StampManage contains the latest Market Values in several different grades, including Mint Sheets & Plate Blocks where applicable.
Many of the more valuable stamps have a NH (Never Hinged) percent which will calculated and automatically added to the base value of mint stamps.
You can browse the values database and StampManage will even show how many of each stamp you own!

Useful & Professional-Looking Reports
| | | |
| --- | --- | --- |
| Use our CheckList report to see which stamps you currently own. Print it out and take it to a stamp show or when visiting your local dealer. | Stamp Variety & Valuation report using the provided StampManage values database. | The Quantities Owned report shows the number of Stamps, Plate Blocks and First Day Covers owned for each stamp variety. |
| | | |
StampManage includes reports that let you create your own professional looking album pages directly from StampManage. The screenshot below shows U.S. Air Mail stamp album pages that were automatically generated in seconds from the StampManage database & image repository.
You can easily change the layout using our integrated Report Designer. Create and store as many different Album Page layouts as you wish.
Easily print the pages on your printer, email the PDF to someone, export it to another format.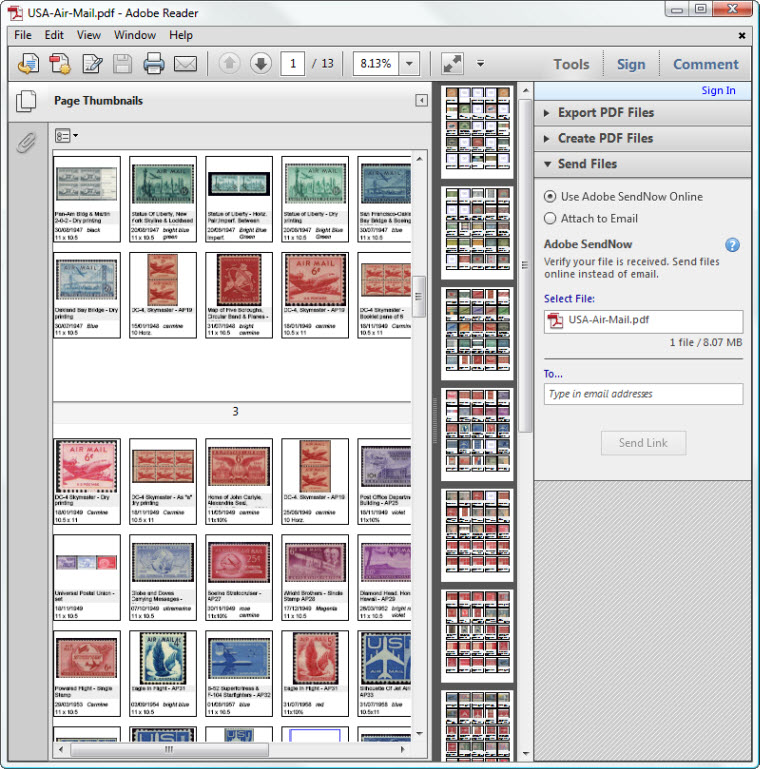 Use our new, integrated report designer to create and edit your own reports.

New!

Live Preview shows you what your output will look like using real data from StampManage. This makes it much easier to judge column widths and save time designing the look of your reports.
Easily create reports with graphs, stamp images, totals and more.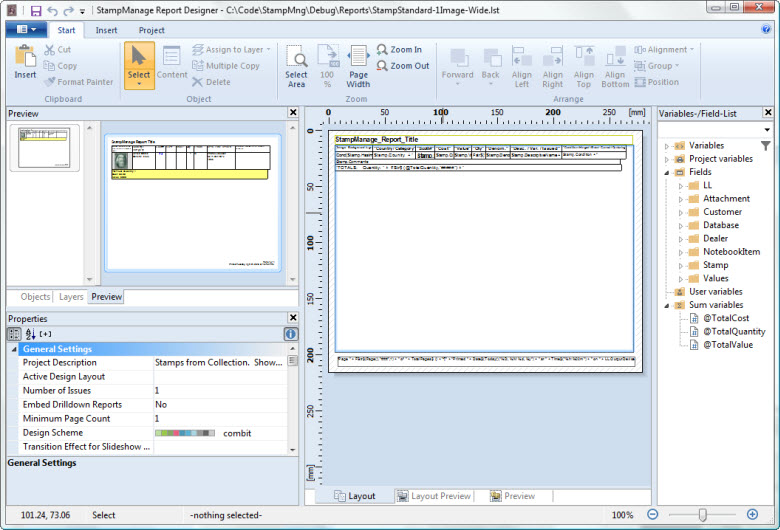 View your collection in many different ways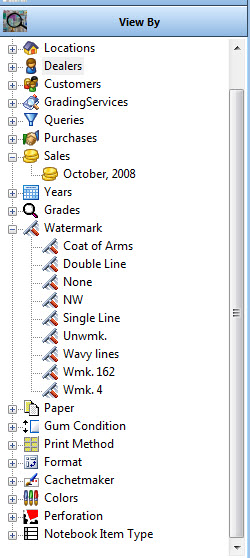 Our Stamp Collecting software makes it easy to view and analyze your collection in many different ways.
The screen shot to the left shows how the Year of Issue is displayed for all the stamps currently in a user's collections.
View all stamps purchased from a particular dealer
Execute queries you have created
View stamps by month/year of purchase or sale.
View all the stamps on your Sell list.
View all of your stamps grouped by Year of Issue, color, grade and more.
Use the Output Report Using feature to create reports with only the stamps currently displayed as input to the selected report.
Keep track of Purchase data, Postmark Information, etc.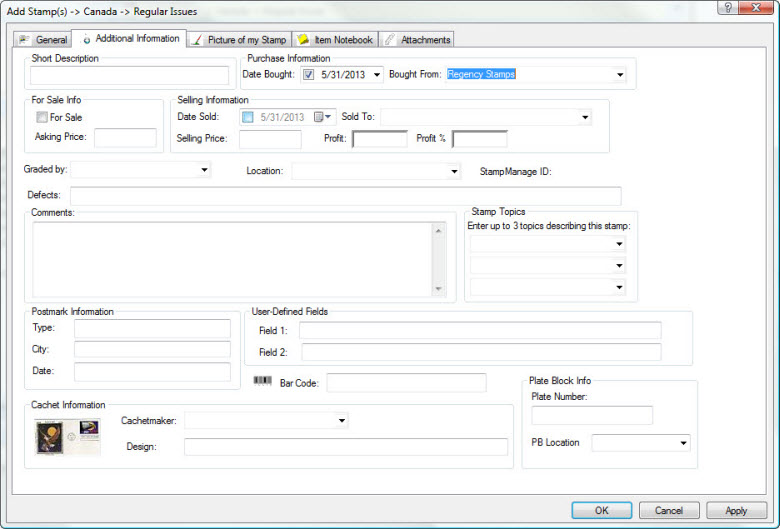 Record Postmark Type, City & Date. Who you bought the item from along with purchase price, Plate Number, Grading information and much more.
No other program lets you store this amount of detailed information for each stamp.
Use the Stamp Data Manager to add new stamps to the program database.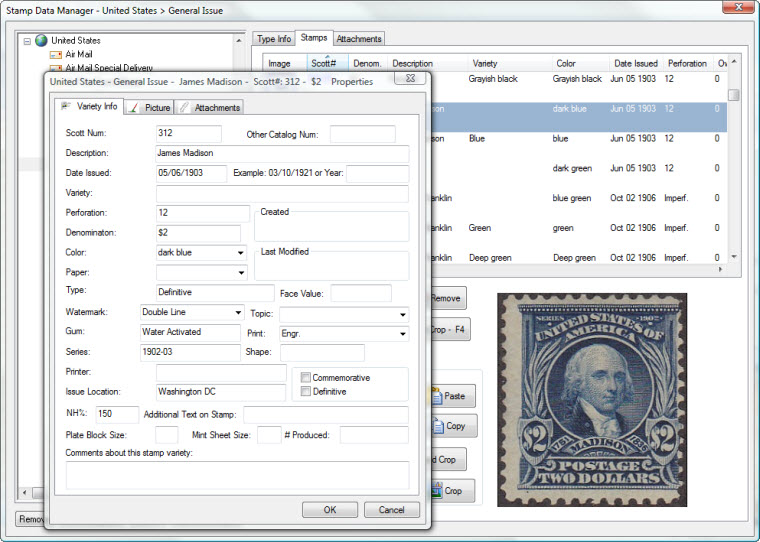 Add data & images for new countries
Edit existing stamp variety data.
Delete data from countries or categories you don't collect.
We use it when making additions to the StampManage database

What a great product! I've been looking for a while. The demo software convinced me. I love the ease of use. MS Access & Windows aspects. Ability to create my own collection... The annual updates. I'm excited to get started entering my collection

- John M. B. from Moraga, California
StampManage Purchasing Information
All data you have entered into your current version of StampManage will be imported.
Note: The Download upgrade requires Hi-Speed Internet you will be
downloading a

3.7

GB file